Features using a POS System at a Busy Cafe
Cafes are the first place you go when you want to enjoy a cup of coffee and grab a bit, catch up with your friends, or simply to relax and unwind. However, a completely different story falls in place every service hour of the day behind the counter. The staff members run around as they clear tables, make coffees, prepare meals, and take money. Service must be fast and efficient, as well as easy and reliable. It is where MiPOS comes in handy.
Are you using order numbers or do you provide table service? Do you require kitchen printing or you just give the docket to your chef? Are you using customer loyalty cards to encourage customers to come back? If any or all of these is yes, then rest assured that MiPOS can handle all of them and more.
Customer Rewards
If you have special offers in your Cafe, you can count on MiPOS to help you out. Through adding your customers then linking a code, barcode, or name with them, the rewards they get are tracked and kept in the database within MiPOS.
Table Map
MiPOS has a graphical table ordering map which lets you upload a bitmap of the floor layout and make this well represented on the screen. It allows the staff to easily align themselves to determine their sections, with new staff quickly grasping the locations of the tables to speed up their service. Table ordering make it easy to handling order when a restaurant provides a dine-in service.
Hold Print
This hold print function is useful if a group of people sits at one table but prefers to order and pay for their orders separately. The clerk in charge of the POS terminal can use this hold print function to prevent orders from being sent to the kitchen monitor or kitchen printer until the very last person finished ordering their meal.
Kitchen Printing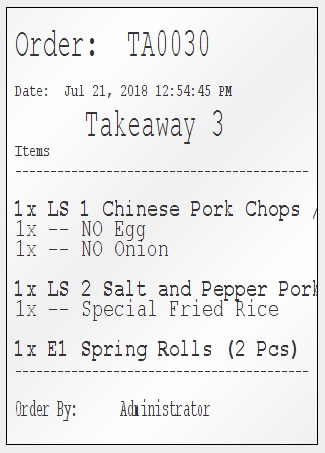 Save your staff from the hassle of having to walk from the terminal or table to the kitchen just to get an order delivered. Let the kitchen printing from MiPOS take the trip on their behalf. Get all orders printed out clearly and duplicate them on dockets for various courses.
Don't like printing every order. Want to go green. Or too wet to handle paper printouts. Bump screens are the best option. Replacing Printers, Bump Screens does the same job. It's a touchscreen that displays the orders with a timer and buzz after a preferred period. Removing orders from the screen by touch is called Bump out.
To get the best out of your staff efficiency and service times, MiPOS offers a iPad which will let your staff take orders. Table status indicators are going to be displayed on the app to save the staff from having to go near a POS terminal just to check how every table is traveling.
Order Numbers

Order numbers can give cafes the flexibility of assigning customers a number for delivering drinks and food and reusing the number again in the later part of the day.
Menu247 makes it possible for your customers to order in advance to help save time the moment they step foot on your Cafe. This online order feature makes everything simpler, faster, and more convenient for you and your customers alike. It eliminates the need for waiting time so you can have orders prepared way before they finished settling down in their table.
Download a copy of POS Software user manual. This Manual is updated regularly. Maintaining a software development needs many hours of development – updates – modification – to keep up with the changing demands and requirements.
We have a strong in-house development team to guarantee our software and we stand behind it 24/7.