Introducing all in One POS Terminal – New 2019 Model from MiPOS Point of Sale Systems.
We try our best to give you a true and honest review of our 2019 POS Terminal. We find many rich features conspired to 2017 POS Terminal.
This new model is with a metal outer casing, heavier than the 2017 model. Comes with 15-inch Capacitive Touch and Bezel free screen makes it a much more sensitive touch with water-resistant screen.
There are no moving parts within this Terminal. It has a Solid State Drive instead of a traditional hard drive and consists of either 2GB or 4GB Ram depending on your application.
Access to USB, Network, Serial and Power Ports are neatly hidden behind a backplate. The bottom plate is magnetically attached for easy access to cabling when required.
2018 POS Terminal model had the power 12V 5A adapter mounted underneath the Base of the POS terminal. In 2019, this power adapter is sitting externally, which we find needs a second thought in 2020 or later design.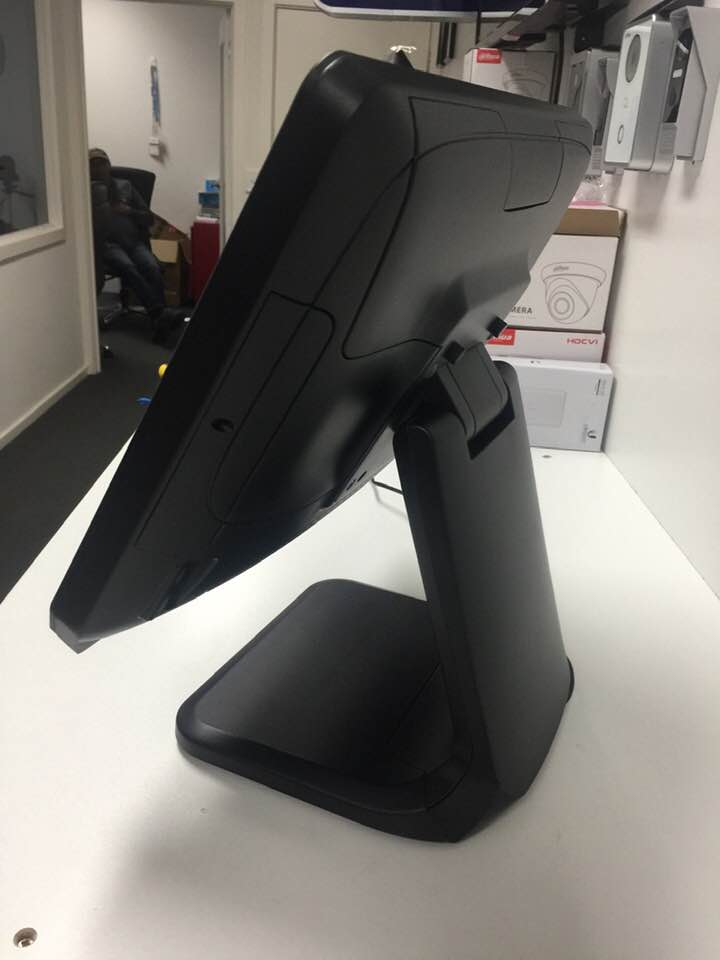 Internal Motherboard and Touch Controller is the same model used in the 2017 POS Terminal, which makes it easier for repairs and replacements. Therefore managing spare parts for future warranty and upgrades in cost-effective.
Comes 10 inch LCD Customer Display attachment for an additional cost. The customer display is powered by an internal power supply port on the POS Terminal and extended VGA provides input for the display.
It comes with Black in Color. With our experience, colored terminals tend to discolor over time. We find black color tends to retain the quality of the material for a long time.
Summary: Metal Design, Heavy, Bezel Free Screen, Capacitive Touch, Similar Motherboard and Touch Controller, Internal Power Source for Customer Display.